Learn these three tips to safeguard against this year's most harmful cyberthreat.
In 2017, Avast blocked more than 122 million WannaCry attacks, the infamous ransomware that caused tears to be shed around the globe. That attack, along with the Petna and Bad Rabbit ransomware attacks, cost consumers and businesses around the world more than 5 billion dollars. Without a doubt, ransomware was the year's biggest threat. And this terrible trend will unfortunately continue rising in 2018.
One of the reasons ransomware is so popular in the cyber-underworld is that the malware needed to create it is readily available online. A bigger reason is that it's so lucrative for the cybercriminals. Once the malware gets on your system, it chooses specific files—or perhaps your whole hard drive—and locks you out of them. The files are encrypted. Once you try to open them, a notice pops up on your system demanding a large cryptocurrency payment in order to retrieve your files. In many cases, the criminals are deceptive about this, and they never decrypt your files. Though they do take your money.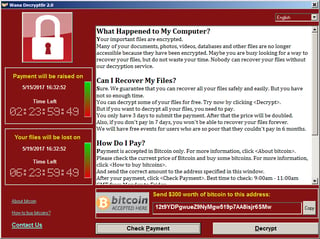 Some of the more evil ransomware we've seen in 2017 included PopcornTime, a ransomware that offered to decrypt your files only if you infected two further victims with the malware. If your chosen victims paid their ransom, you got your files back. (Or so they would promise.)
Since we expect to see more permutations of this evil throughout 2018, we've come up with three tips to help you protect yourself from falling victim.
Tip #1 – Always update
WannaCry and Petna both took advantage of vulnerabilities inherent in PCs that had not been updated. Unsupported and outdated systems are prime hacker nesting grounds that can open the door for malware. When your OS or one of your apps issues an update, always download and install the new version. Sometimes these are simply intended to improve performance, but often they come with new security patches to counter the latest threats.
Tip #2 – Back up your data
Whether you prefer an external hard drive or the cloud, make sure all your files are backed up. This is the ONLY surefire way to protect your files from being lost for good to ransomware, or any kind of malware for that matter. If your main files get locked down by cybercriminal, no problem—you've got a backup.
Tip #3 – Use a strong antivirus
You want an antivirus that shuts down a ransomware attack before it starts. Avast Free Antivirus uses AI and machine learning to detect and block all malware, including ransomware, adware, spyware, and more. Upgrading to our premium tier, Avast Premier Antivirus, gives you additional dedicated anti-ransomware software called Ransomware Shield. Learn more about both on the Avast website.
All of the above applies to your smartphone as well as your laptop, desktop, and tablet. If it's connected to the internet, there's a chance it can be compromised. As 2018 gets rolling, stay close to this blog for up-to-the-minute news in the cybersecurity world. At Avast, our #1 priority is protecting your digital life.
Author: Dawn Leonetti, 22 January 2018